Breast Reconstruction Snapshot
Breast reconstruction adelaide can revive form /li>
Immediate reconstruction

Reconstruction occurs at the same time as the mastectomy

Delayed reconstruction

Reconstruction occurs months to years after a mastectomy
Often follows chemotherapy and or radiotherapy

All breast reconstructive options are complex and can be multi-staged
There are 3 broad categories of breast reconstruction

Expander &/or implant based reconstructions
Autologous reconstruction using tissue from your own body to recreate a breast
A combination of an implant and autologous tissue
Some of the options in breast reconstruction Adelaide include
Expander & implant reconstruction
Latissimus dorsi with or without expander reconstruction
Abdominal flap reconstructions

TRAM flap

Transverse Rectus Abdominis Myocutaneous

DIEP flap

Deep Inferior Epigastric artery Perforator

Lipofilling or fat grafting
Acellular Dermal Matrices
SPREO flap & expander
Nipple reconstruction
Nipple tattooing
Breast Reconstruction
In Australia, breast cancer affects one in eight women by the age of 85. It is the most common cancer in women in Australia. Breast cancer treatment can take many months to complete taking its toll on patients and their families. There is often a sense of uncertainty and fear associated with breast cancer treatment that compounds the emotional damage of disfigurement related to mastectomy surgery.
Breast cancer treatment and breast reconstruction has evolved into a complex decision-making process led by a multi-disciplinary panel of specialists. The decisions surrounding breast reconstruction must complement and not interfere with breast cancer treatment. Most importantly, these decisions are made by the patient with the guidance of the multi-disciplinary team.
One of these decisions is whether your breast reconstruction is performed during the same procedure as your mastectomy or post-poned until after you have finished chemotherapy and or radiotherapy. These are known as an immediate or delayed reconstruction respectively.
Another decision is whether you have the other breast treated as well. This can be in the form of a mastectomy and reconstruction if you pose a high risk of a new cancer in that breast. Or you may simply need a breast lift or reduction to attain better symmetry with the reconstructed breast.
It is important to understand that although there are many options when it comes to breast reconstruction, one particular type of reconstructive pathway will often suit you better than another. Every breast reconstruction is tailored to your breast cancer treatment, your body and your lifestyle.
It is important that you entrust this type of surgery to a specialist who is able to confidently perform all types of reconstruction so that there is no bias when it comes to the type of surgery that is offered.
Dr Quoc Lam is a specialist breast reconstruction surgeon who is comfortable with all the techniques available and is happy to walk you through the decision-making process. Dr Lam will clarify which options are available to you and which options are not suitable. He will discuss the various merits and limitations of these options so that you understand your situation in order to formulate a tailored plan for your breast reconstruction.
During your first consultation, there is often a lot of information to digest and it may be helpful to have your partner, friend or family member attend this first meeting with you.
If you are facing a mastectomy and want to have more information about your reconstruction, please organise a referral to see Dr Quoc Lam.
Getting through your breast reconstruction
The breast reconstruction process can be both emotionally and physically taxing, however with the right preparation and support, it can become an empowering and healing experience for you and your loved ones.
Multi-staged process
Understanding and accepting that your breast reconstruction may take several stages marks the beginning of accepting the process. For reconstructions utilising expanders and implants, there may be 3-4 stages. For breast reconstructions using flaps without an expander or implant, there may be 1- 3 stages. Each stage is spaced approximately 3-5months apart, becoming less demanding with a shorter recovery.
Although the entire process can take anywhere from 6 months to 1 year, the last 2 stages (nipple reconstruction and tattoo) are very minor and the most part of the breast reconstruction will be complete well before this time. This means that you will have completed the hardest part of your breast reconstruction in the first stage and each subsequent stage becomes easier with a shorter recovery.
The process is fairly flexible such that the stages can be organized to fit your life and your schedule.
Your life will not be put on hold for the duration of your breast reconstruction. Instead it will be punctuated by a series of procedures with relative normality in between.
Relationships and breast reconstruction
First and foremost, this surgery is for you. However, having multiple surgeries spaced over 1 year can also be difficult for those around you. It is important to think about and discuss the process with your partner or support person.
The process will have immediate effects on your partner, your children and your work relationships.
It is healthy and important that you think about these issues and formulate pre-emptive strategies to help you through your breast reconstruction. If you need further support during your breast reconstruction, make it known to your surgeon, oncologist or GP so they can understand in order to assist you.
Frequently Asked Questions
In general, breast reconstruction may be an option for women who have had a mastectomy or lumpectomy due to breast cancer or other medical conditions. The timing and type of breast reconstruction will depend on various factors, including the stage of your cancer, your overall health, your preference, and your surgeon's recommendation.
Some factors that may make you a good candidate for breast reconstruction include:
● Good overall health
● No active infection or other medical conditions that could interfere with healing
● Realistic expectations for the outcome of the procedure
● Willingness to undergo additional surgeries if necessary
● Positive attitude and emotional stability
Ultimately, the decision to undergo breast reconstruction is a personal one that should be made in consultation with your plastic surgeon.
The settling of breast reconstruction can vary depending on factors like the extent of surgery and type of reconstruction and may take several months to a year. To aid in this process, your surgeon may suggest techniques such as massage and closely monitor your progress through follow-up appointments. Adhering to post-operative instructions and attending follow-up appointments is vital to ensuring the reconstruction settles correctly.
The ideal breast reconstruction method for you will depend on several factors, such as your health condition, cancer treatment plan, body shape, personal preferences, and the advice of your surgeon. Possible options include implant-based reconstruction, autologous tissue reconstruction, or a combination of both. It's crucial to consult with a board-certified plastic surgeon who specialises in breast reconstruction to determine the most suitable option for you.
Download Our Information Packs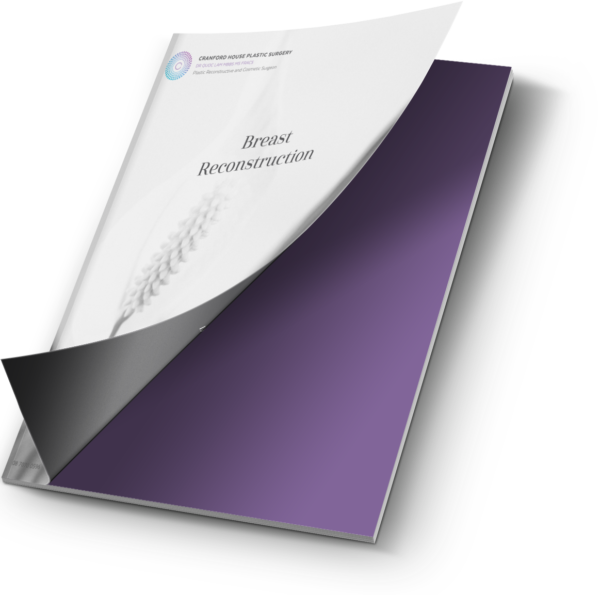 Expander Breast Reconstruction Timeline Information Pack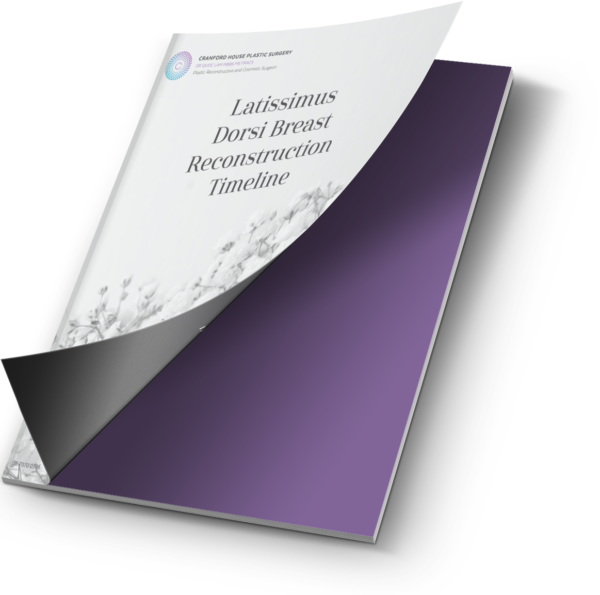 Latissimus Dorsi Breast Reconstruction Information Pack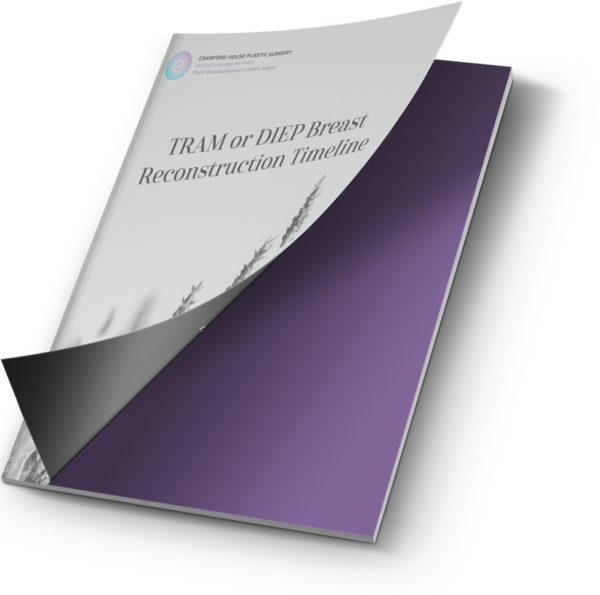 Tram Breast Reconstruction Timeline Information Pack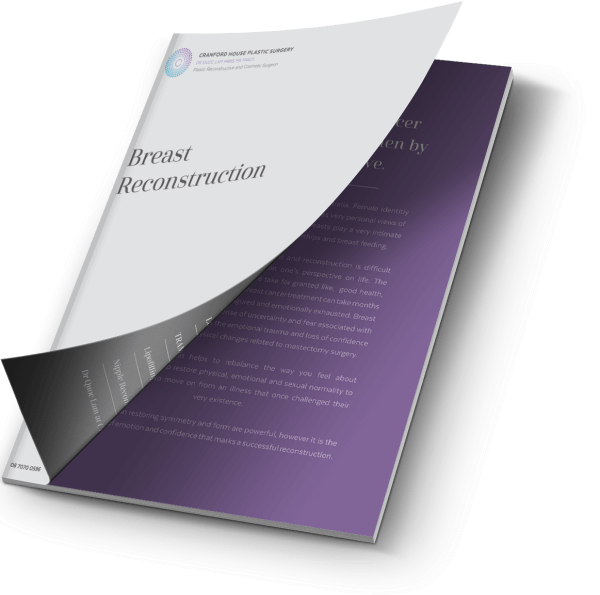 Breast Reconstruction Guide
Further Information about Breast Reconstruction
If you would like to know more about breast reconstruction procedures we offer, or to book an appointment, please contact us today.